DIRECT SUPPORT PROFESSIONALS WEEK
September 10-16, 2023
From September 10th to 16th, 2023, we celebrate Direct Support Professionals (DSP) Week, a time dedicated to recognizing and appreciating the invaluable contributions of these unsung heroes. DSPs play a crucial role in the lives of individuals with disabilities, offering support, care, and empowerment. This week is more than just a token of appreciation; it is a reminder of the remarkable impact DSPs have on the lives of those they serve and our communities as a whole.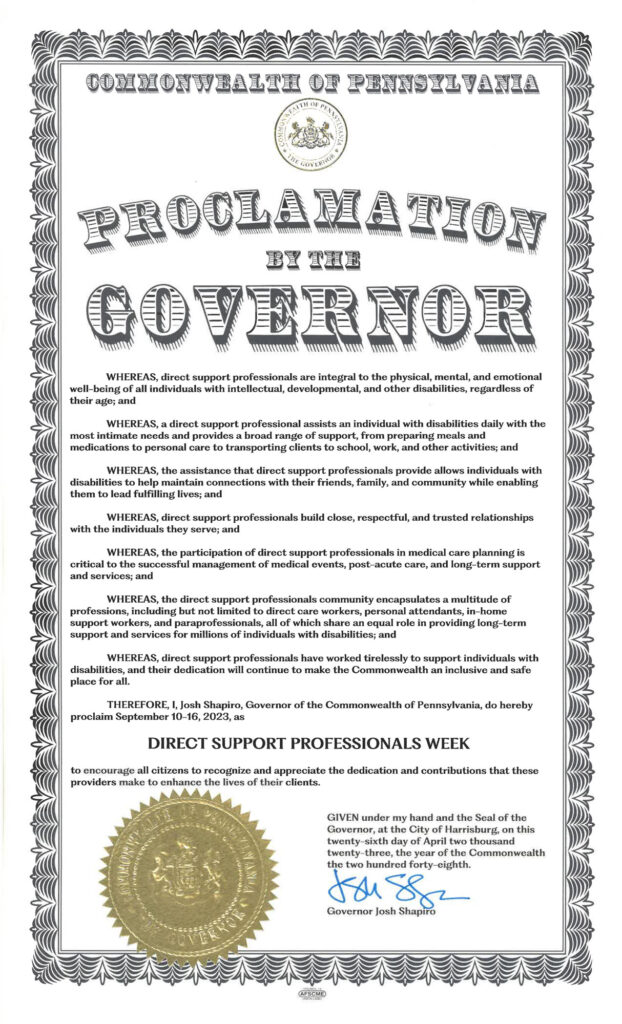 ——————————————————–
PROCLAMATION BY THE GOVERNOR
WHEREAS, direct support professionals are integral to the physical, mental, and emotional well-being of all individuals with intellectual, developmental, and other disabilities, regardless of their age; and
WHEREAS, a direct support professional assists an individual with disabilities daily with the most intimate needs and provides a board range of support, from preparing meals and medications to personal care to transporting clients to school, work, and other activities; and
WHEREAS, the assistance that direct support professionals provide allows individuals with disabilities to help maintain connections with their friends, family, and community while enabling them to lead fulfilling lives; and
WHEREAS, direct support professionals build close, respectful, and trusted relationships with the individuals they serve; and
WHEREAS, the participation of direct support professionals in medical care planning is critical to the successful management of medical events, post-acute care, and long-term support and services; and
WHEREAS, the direct support professionals community encapsulates a multitude of professions, including but not limited to direct care workers, personal care attendants, in-home support workers, and paraprofessionals, all of which share an equal role in providing long-term support and services for millions of individuals with disabilities; and
WHEREAS, direct support professionals have worked tirelessly to support individuals with disabilities, and their dedication will continue to make the Commonwealth an inclusive and safe place for all.
THERE, I, Josh Shariro, Governor of the Commonwealth of Pennsylvania, do hereby proclaim September 10-16, 2023, as
DIRECT SUPPORT PROFESSIONALS WEEK
to encourage all citizens to recognize and appreciate the dedication and contributions that these providers make to enhance the lives of their clients.
——————————————————–
The Unsung Heros
Direct Support Professionals are the backbone of the disability support system. They work tirelessly to ensure that individuals with disabilities lead fulfilling lives, fostering their independence, and promoting their inclusion in society. These professionals assist with daily tasks, provide emotional support, and create a safe and nurturing environment for their clients. Does this sound like a career for you?
Why DSP Week Matters
Recognition and Appreciation: DSP Week provides an opportunity for society to recognize and appreciate the dedication and hard work of these professionals. Their commitment often goes unnoticed, making this week a crucial reminder of their significance.

Advocacy and Awareness: By celebrating DSPs, we raise awareness about the importance of disability support services. This week encourages discussions around disability rights, inclusion, and the need for a robust support system.

Recruitment and Retention: Recognizing DSPs' contributions can attract new talent to the field and promote the retention of experienced professionals. It highlights the value society places on this critical work, potentially leading to improved training and better compensation. (View our job board)

Empowerment: DSP Week empowers both the individuals with disabilities and the professionals who serve them. It fosters a sense of pride and purpose among DSPs and reminds those receiving support that their dreams and aspirations are worth pursuing.

Community Building: DSPs play an integral role in building stronger and more inclusive communities. Their work breaks down barriers and promotes diversity, making our society richer and more compassionate.
Ways to Celebrate DSP Week
Thank You Notes: Take a moment to express your gratitude to the DSPs in your life. A simple thank-you note or message can go a long way in acknowledging their efforts.

Advocate for Inclusion: Use this week to engage in discussions about disability inclusion and advocate for policies and initiatives that support individuals with disabilities.

Donate or Volunteer: Consider donating to organizations that support individuals with disabilities or apply your time to make a difference in the lives of those in need.

Share Stories: Share inspiring stories of DSPs and individuals they support on social media to raise awareness and inspire others.
Direct Support Professionals Week is a time to shine a spotlight on the compassionate individuals who work diligently behind the scenes to improve the lives of those with disabilities. Their dedication, empathy, and hard work deserve recognition and appreciation not just during this special week but throughout the year. By celebrating DSP Week, we honor the unsung heroes who make our communities more inclusive, diverse, and compassionate. Let us join together in acknowledging their remarkable contributions and working towards a more inclusive and supportive society for all.